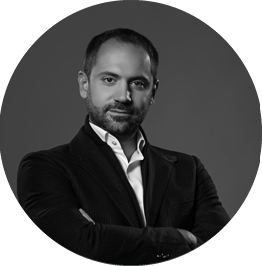 Independent non-executive member of the BoD
Dimitrios Charitidis is a leading figure in Greek tourism, and a valued member of the Board of Directors of Karatzis Group of Companies. His excellent know-how in the field, as well as his intuitive grasp of hospitality's finer points, have been of great importance in guiding its decision- making processes. Combined with a razor-sharp sense of judgement and managerial efficiency, this knowledge acts as a true asset to the Group's growth and development.
Dimitrios has been the President & Managing Director, as well as President of the DMC Offices, of the TEZ TOUR Group of Companies since 2014. Additionally, starting in 2014 he has held a position as a member of the Board of Directors of the Greek Eurasian Business Council. His extensive education includes a diploma in Marketing Management from the Northwestern University Chicago, USA, Kellogg School of Management, as well as an Executive MBA from the University of Piraeus, Greece.